It's All In A Name: "Pinna" from South Carolina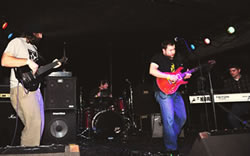 Having the right formula for success means everything for young bands coming up in the ranks and trying to make it to the next level.
That includes a great sound, amazing technique, top notch vocals and a "do whatever it takes" attitude to get noticed. The band Pinna from Columbia, South Carolina seems to have the right formula and wants to be known as a nationally touring act. The guys not only have talent, but also the desire to deliver their sound to as many fans as possible, even if it means playing in parking lots before big shows.
It's not easy in this day and age and the guys from Pinna know it. They are up against thousands of other bands in the industry, just as good as they are. But, with time and dedication, it's very possible that Pinna will be rewarded for their hard work. Not only is Pinna a good band, but they also exhibit that indie-pop, jam-oriented style that is crucial for widespread attention and airplay on major radio stations.
According to the bands website, "Pinna is bringing back the raw, classic energy of rock, mixing it with a healthy dose of funk and leaving no musical stone unturned. Drawing an eclectic mix of fans (khakis to blue jeans, sorority girls to flower children, the young and the young at heart) the band creates an instant party on the floor for those who just like to groove or flat out dance around the room. The set list always changes, so every show seems like a new exhilarating musical experience with a group of your closest friends".
For me, Pinna has a professional and polished sound that is fun and easy to listen to. Every member of the band carries his own weight, listens well, performs as one unit and from what I hear, is part of the whole creative process.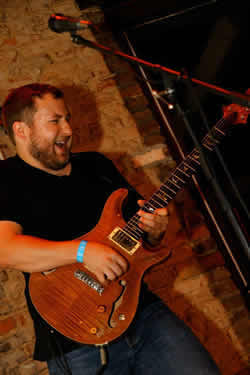 On guitar and vocals is George Fetner, who is the driving force of the band. George has an amazing voice, is classically trained and a great front-man onstage. He's got that will-power and drive to lead this band forward and someone who is humble and honest in life.
On keys is Tim Pape, who besides being a great piano player and classically trained, can also shred on the organ. Listen to any song and you will hear Pape's eloquence in the background or shining through brilliantly during his solos.
On bass guitar is Cory Takach who compliments the rhythm section and adds that funky, disco sound to the band. Takach is confident and it shows in his playing.
On drums is Ryan Ball who hits hard and can rival other drummers out there with his amazing "chops". Ball's playing is concise, dominant and direct. He can "stop on a dime", perform complex drum solos and Ball brings a huge dimension to this band.
Pinna's first studio album "Parallel Dimensions" (2008) is a well dome production with its storytelling, grace and upbeat mood. Songs are short and punchy, ethereal and funky. They contain a sort of maturity and something that resembles Phish's Farmhouse album. I also hear remnants of the Spin Doctors, Disco Biscuits and Scofield/MMW all rolled up in one.
The guys are embarking on a mini tour playing 8 shows in and around the east coast over the next month. Pinna wants to get their sound out to the world in the coming year despite the costs. Plans for another studio album are in the works and will surface later this summer.
George and I spoke on the phone recently about their upcoming shows, their hometown of Columbia in the south east and how the guys came together. Any band that has a great story, a clever name and the will power to endure in this business gets our support as they move forward.
Pinna is one of those bands that have a long road ahead of them but success is sure to follow. Fear and doubt are words that are not in this bands vocabulary when it comes to touring and recording. Pinna should be allowed through the musical gates of success and given that free pass to stardom playing 100 shows a year and doing what they love; playing music full time and touring the world.
Interview with George Fetner, Wednesday May 25th
Bring me up to speed George, how did this lineup come together and what were you doing just before Pinna formed?
We formed when we were in college. I studied music composition at The University of South Carolina in Columbia and got my degree there along with our keyboardist. He and I got together and talked about jamming, and originally had a different drummer. And then we put an ad out for a bass player. For the first two years, we made USC our home. We always practiced there and would spend five hours on Sundays just playing. We had our first show in 2007 when we were juniors.
What kind of band did you guys want to be? What were your goals and plans for the future in the first couple years?
From the start, I've always been the ringleader and wanted to play original music. We didn't learn any cover tunes until we were getting ready for the first show. Even as an original band, it's a good idea to have some covers to bring folks in. Some of the first originals we learned were compositionally a little more challenging than the straight ahead rock stuff. I wanted to not only compose songs but also play improvised music because that was a big part of my upbringing as a guitar player. That was my goal and everyone kind of came along with the concept. We have stayed true to that since the beginning and haven't done a whole lot of strictly cover shows. We want people to hear our original stuff because we want to make a career out of playing original music.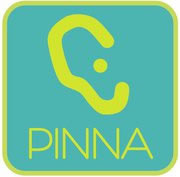 Over the last week I did a little research on your unique name Pinna. It has auditory references but tell us how that came to be and the significance behind the name?
It's really simple and you probably learned all about our "secret" just from looking it up. We originally had some ideas about what we wanted in a name and Pinna just stuck out from all the rest. It's a body part (the outer projecting part of your ear) that everyone has . So, similar to your pinna, we wanted the band to be all inclusive and able to relate to anyone on a musical level by playing any style of music. In the beginning we had a shirt with an early logo on it and the definition written out so people could pronounce it correctly (PIN-uh).
How have your rehearsals been progressing from when you first came together to the times now?
In the beginning, most rehearsals started out by me saying, "I've got 10 new songs and we are going to try and learn 3 of them tonight". I kept writing songs one after the other so there was this push to learn a good chunk of original material. Now we try to find out what we can do with the older songs and how we can become more familiar with ourselves musically through improvisation. That way when we get to a show we don't have these rehearsed jams necessarily, but we have different options and different ways of doing songs. A big tool in rehearsals is the computer. We record all of our practices and shows, and I write out all of our music with lead sheets that I bring to the band. I can record a demo and in no time get it to them as a starting point. I keep it pretty open, though, and allow the other guys to make suggestions and we usually collectively change the song before we play it live.
The song "Climb to Nowhere", is that one of yours?
Yes, that is an original song. It's the song that started it all even before the band had formed. Tim, our former keyboardist, and I got together and worked on it. That's definitely an oldie. At the time, I was studying lots of different types of harmony and some of the more technical and theoretical harmonies made it into "Climb". I wanted to have a good mix of composed and improvised sections, and there's an end section that is wide-open which when played live sometimes becomes longer than the composed part of the song. It allows us the opportunity to open up and do some jamming and sometimes we have people sit in with us during that end section and jam into another song.
The song "Photogenic", would you say that is kind of a modern day, social marketing song with references to Facebook?
That one was more of a modern day "don't judge a book by its cover" commentary on social networking. It's about seeing a picture of someone and thinking you understand them or know them just from that image. Some people end up being more photogenic than others, but that doesn't mean they're less valuable in real life. Rarely am I actually thinking about Facebook while I'm singing the song (laughs).
Have you guys been out on the road for two weeks or more?
This is actually our first trip out, and we're excited about the adventure. I've been gathering lots of advice from veteran musicians down here. Most have said, "You just have to do it". We think this is going to be a good opportunity to venture out to other cities and market ourselves to people who will more than likely dig our stuff on a national level. In the past, we have done some short trips out to Georgia and North Carolina. The sole intent is to get out there and receive exposure. While Columbia doesn't have the most sustainable music scene, it's geographically in a great location to travel to places like Athens and Charleston and Asheville, so we're always working on touring and getting out of town.
Talk about the connection with the audience and your band. How has that been over the last few years and what does that connection mean to you?
It's been really great and just like any young band, the connection with the audience is something that we take seriously. Most gigs lots of people show up but sometimes that just doesn't happen, especially playing out of town in a new city. We don't really change the way we play even for a small crowd. We always play out and play to whoever is there. One of the cd's we pass out is from a mid-week show that we played because a band cancelled. We didn't have time to promote and it ended up being a great performance. It's really energetic music with only a handful of people in the room. We used to let the turnout dictate how we played the show, but if 5 people show up, they are going to get the same show that 500 would get.
There are so many bands out there. Besides good luck, timing and right place at the right time, what do you guys think will propel a band like you to the next level? What really is it?
The short answer is that I wish I knew the real truth. But as we progress, we've paid more attention to marketing. Using the internet in a smart way puts you at an advantage. The grass roots word of mouth has exploded into transmitting information immediately to your friends. You can't just play because there are so many bands that are good and on the road. Musically it's a no brainer that we have to be 100% ON, even if we aren't feeling great, and we always play like it's our last show. We want to support other musicians as well because you never know when you'll get a chance to work with musicians you like. Some of our upcoming shows are going to be in the Phish parking lots delivering our music directly to live music lovers. We're excited to set up our gear and just go for it.
What is the plan for the rest of the year?
The plan is to work on a new album which will be done by August. Most of the songs we haven't played live yet, but we're putting a lot of work into it and taking our time. The first studio album is great and I love listening to it. But, it was the kind of thing where we said, "we have this amount of money and time, whatever comes out comes out". We are devoting a lot more time and energy to this one. It'll be very accessible to everyone, and we'll be sending it out to magazines and reviewers who might be more interested in listening to a polished studio effort than going to a show.
We all want to do this long term, and I'd love to go on the road full time. It's the beginning of our musical career as a band. The next step towards "making it" is to be full-time musicians. When we get to that point, we want to continue developing a fan base and play to bigger audiences. Playing music professionally is a little scary because ultimately if there aren't enough folks out there who like it, you're stuck. I think we've got the right work ethic and attitude to give it a resilient try, and hopefully our talent, style, and hard work will pay off.
It sounds like you are working hard, doing whatever it takes and have a great perspective on the whole process. We wish you a lot of luck in the coming year!
For more of Pinna, check out: http://www.facebook.com/pinnaband